Marquis Health Services Sites
>
Roosevelt Rehabilitation & Healthcare Center
>
Press Release
>
Roosevelt Rehabilitation & Healthcare Center Introduces Russian Cultural Program
Roosevelt Rehabilitation & Healthcare Center Introduces Russian Cultural Program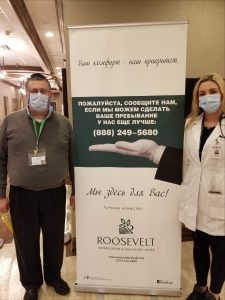 Initiative at Philadelphia Skilled Nursing Facility Responds to Regional Demand
PHILADELPHIA, Feb. 3, 2021 – Roosevelt Rehabilitation & Healthcare Center in northeast Philadelphia has launched a Russian cultural program in response to regional demand. The 240-bed skilled nursing facility provides post-hospital care, short-term rehab and long-term residential care. 
Roosevelt's Russian Program features bilingual caregivers and medical professionals, including on-site nurse practitioner Yana Yazmir, CRNP. Residents enjoy authentic cuisine prepared in-house, special Russian cultural programming and recreational activities, complimentary Kartina TV with 150 Russian channels, as well as Russian radio and Russian newspapers. The skilled nursing facility also has a dedicated guest services hotline for Russian-speaking residents.
"With more than 130,000 Russian- and/or Ukrainian-speaking households within a 10-mile radius of Roosevelt, our program addresses a true need in the area," said Roosevelt's Alec Braverstein, community liaison for the program, who speaks fluent Russian and draws on a decades-long career in healthcare. "We have seen admissions of new Russian-speaking residents grow significantly since we launched this offering. Their families are thrilled we are able to break down any language barriers and that their loved ones are nearby receiving the highest quality of individualized treatment and care."
Roosevelt created the Russian Program with Marquis Health Consulting Services, which supports the facility. "This new program is bringing the full cultural experience and the comforts of home to Russian residents," said Marquis' Danielle Koons, regional sales manager. "It is a clear illustration of Roosevelt's emphasis on quality of life for the people in its care."
As the program continues to grow, so does its team. To that end, Roosevelt is actively hiring Russian-speaking staff members. For more information, please visit https://rooseveltrehab.com/caring-careers/ or email [email protected].
Roosevelt Rehabilitation & Healthcare Center is located at 7800 Bustleton Avenue. 
The facility is committed to serving as a healthcare resource for area residents. Together with Marquis, it has established a resource library of physician-curated content, addressing many topics of interest for families of patients and the larger community.
Based in Brick, N.J., Marquis Health Consulting Services is a highly skilled and vision-driven nursing home consulting company currently supporting Mid-Atlantic and New England facilities totaling nearly 4,500 skilled nursing and assisted living beds.